The video below is only a snippet of the PFIC Patient stories told by four of our wonderful PFIC parents. To see the full listening session video and all of the patient stories click the button below.
What Happened in the FDA Session?
To give an easy overview for what happened during the FDA listening session, we have provided the full bulleted agenda below:
Progressive Familial Intrahepatic Cholestasis (PFIC)
FDA Listening Session Agenda
March 22, 3:00-4:00 pm EST
Introduction
Dr. Joseph Toerner, MD
Division Director, Division of Hepatology & Nutrition, FDA
Introduction to PFIC Network & the impact of PFIC
Emily Ventura, RN, BSN
Executive Director, PFIC Network

Introduce PFIC Network & Present Registry Data
Brief Overview of the Spectrum of PFIC
Patient Perspective: Devastations of the Disease & Review of current interventions
Testimonial & Visual of pruritus: Armando's story & Video
Clinician Perspective
Dr. Saul Karpen, MD, FAASLD
Emory University

Describes the disease, burden of illness on patients and unmet needs for treatments
Patient & Family Testimonials
Tara Kearns: PFIC 3 mom, Road to Transplant and Life After

Everyday life, how PFIC 3 impacts the life of an active 10 year old
Discusses complications due to vitamin deficiency and immune suppression

Emily Ventura: PFIC 2 mom, Experience with PFIC 2, Complications Post Transplant

Shares the uncertainty and ineffectiveness of current treatment options
Discusses the recurrence of PFIC 2 disease post transplant, Allo-Immune BSEP Deficiency (AIBD)

Sharon Munn: PFIC 1 mom, Experience with PFIC 1, Complications Post Transplant

Discusses the distress that PFIC has caused in family life and in childhood
Shares the challenges that have occurred specifically related to PFIC 1 post transplant

Charmaine Gravener: PFIC 2 mom, Proof of hope in new therapies, Experience with IBAT inhibitors in trial

Shares a closer look at pruritus and the impact on the child and family
Shares her success story with current therapies that are in trial
Live Q&A
FDA can ask questions to patient community
Closing Remarks & Adjourn: Dr. Joseph Toerner, MD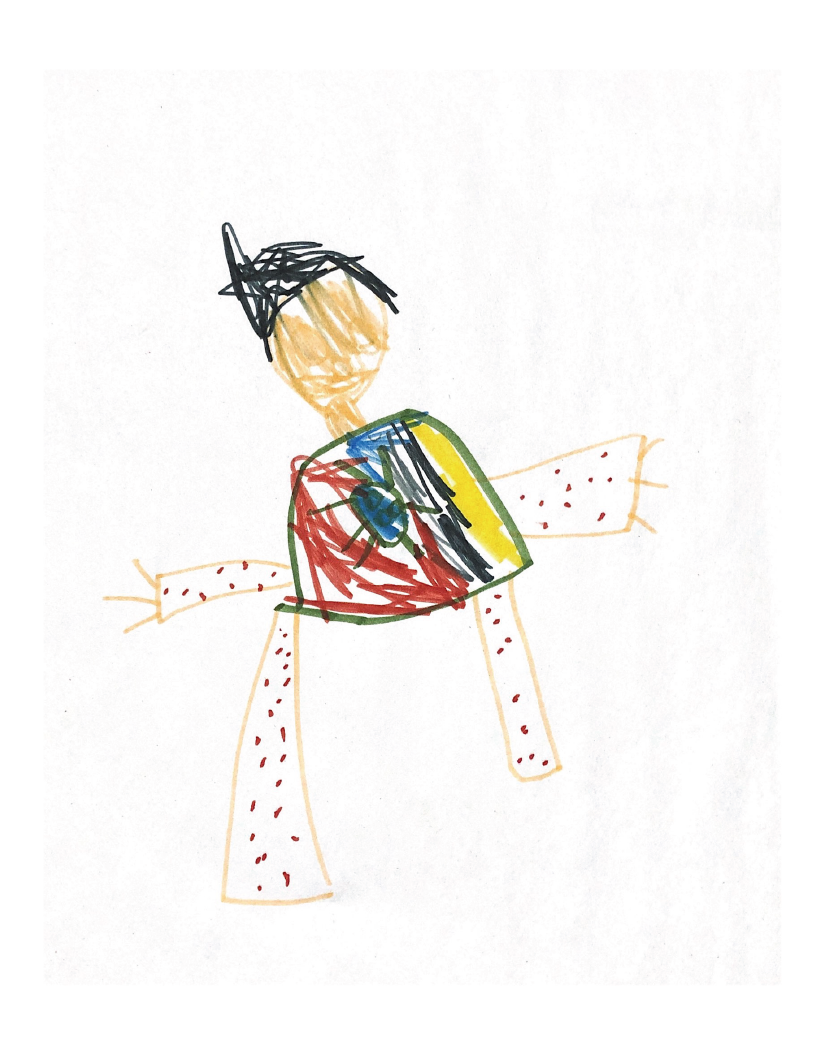 At the end of the powerpoint introduction was this drawing from the brother of Armando, one of the young patients who has experienced horrible pruritus, then a video of Armando dealing with the itch. This is a powerful message to end the introduction of the disease, and for good reason. Many people do not understand what the disease is like, but with patient involvement and sharing of stories and struggles, others can see what this community endures.
The photo to the left was drawn by Armando's brother, and when he gave it to his mother said "All the red dots are Armando's PFIC"
We want to take the time to thank all of our patient parents who shared their story with the FDA panel. Sharing your story as a parent takes courage and everyone in the PFIC Community knows it is so hard to do. But sharing your stories makes a difference and we thank you.
To see why the FDA listening session was an important stepping stone for us and the PFIC community as a whole, you can click the link here.
Share Your Story
Would like to become more involved in sharing the stories of the PFIC community, or simply asking what more can you do to advocate, click below to get in touch. We'd love to hear from you.